The Cover of the Manga, Midori no Hibi Volume 1...
Info on Midori no Hibi Manga on AnimeNFO.com:
Other Names : Midori Days
Total Volumes : 8
Total Chapters :85
Year Published : 2003
Author : Inoue Kazuro
Publisher : Shogakkan
Story:
Sawamura Seiji, Second year student at Sakuradamon High School, known as "the Devil's Right Hand" & "Mad Dog". The strongest Fighter around, he is feared by Everyone. He has always wanted a girlfriend, but he has been rejected 20 times in a row because of his Reputation. One Day, a girl called Midori Suddenly appears on his Right hand and Confesses to him, as a "Right Hand Lover". Now How will Seiji's Life turn Out? Will Midori stay on his Right Hand Forever???
Characters...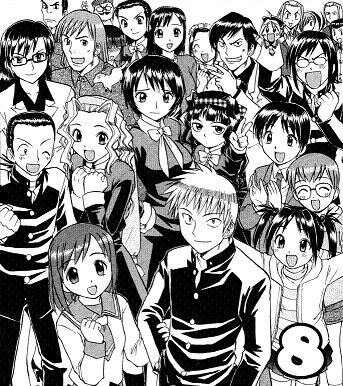 The Cast of All the Midori no Hibi Characters. There are many characters. So I won't explain em'...
My Review on Midori no Hibi Manga...
Okay, So I think the idea & Storyline of Midori no Hibi was quite Unique & Different. Though i think Seiji (the main character) and Ichigo from Bleach Look almost alike... <_<
My Rating:
9/10
Art & Design:
7
Comment:
The art is pretty Decent. Nothing extremely pretty or detailed... but decent.
Story:
9
Comment:
Unique Storyline with LOTS of Comedy and Some Emotions... a 9!
Characters:
9.5
Comment:
don't have to repeat myself... 9.5 for the Great Effort in Explaining the characters to great detail... =)

Tear Factor:
Comment:
It is meant to be a Shonen Manga & Meant to be Funny. But it has Some Good Emotions. So I think 3 Tears fit it...
Comedy Factor:




Comment:
Very Funny Comedy & Very Hillarious. I ReaLLY Laughed a Lot when I read this Manga... xD
Excitement/Suspense/Surprising Factor:




Comment:
There are a LOT OF SURPRISES in this Manga & ExTrEmELy Funny, Hillarious & the Outcomes are Unpredictable. 4 Thunders. x)
Meaningful Factor:


Comment:
Not Really Made to have a Lot of Meaning to it, But a lot of Outrageous Comedy...xD But I gave it 2 Meaning Points cause it has some Points about being in Love... <_<
Click Here to See Legend...
So Be Sure to Read it, Midori no Hibi is Definitely Worth your Time...