My review on the anime, Kono Minikuku mo Utsukushii Sekai...
An Anime of a title that i have heard, i came across this anime & decided to try it out. After all, the title had a pretty interesting feel, so I couldn't resist testing it... x) Throughout this review, i will shorten it to "KMmUS"
Info on KMmUS from AnimeNFO.com...
Title : Kono Minikuku mo Utsukushii Sekai
Other Names : This Ugly Yet Beautiful World,
This Ugly And Beautiful World
Japanese Title : この醜くも美しい世界
Total Episodes : 12
Year Published : 2004
Studio : GAINAX
What KMmUS is About...
Takemoto Takeru is a teenager with a tough past, best friends with Ninomiya Ryou. One day, Ryou was riding on Takeru's Motorbike, & they see a star that came into Earth, split in two & crashes at two different places. They went to one of the crash site and found a girl there. Takeru helps her and names her Hikari. Suddenly, a Huge Monster tries to attack them, What will Takeru do? What can a normal Mortal do to fight back a Huge Monster with Far More Superior Powers than any Human? Who is Hikari & What is she? What & Where IS the Other Part of the Star that had Splitted Earlier?
Characters from KMmUS...
With Many Characters in this anime, I shall take some time to put in details of the few main or big supporting characters...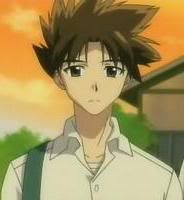 Takemoto Takeru, a normal Teenage High School student. Best Friends with Ryou, He also has an interest in motorbikes. He lives with his uncle & aunt & cousin, Mari...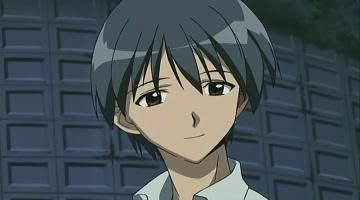 Ninomiya Ryou, Takeru's best friend. He has a little sister & them two live alone in their house. What happened to their parents? Typical nice guy, many girls admire and like him because of his niceness.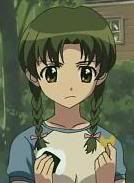 Mari, Takeru's cousin, a fierce teenage girl who goes to the same School as Takeru. She is quite bossy & complains a lot about Takeru's irresponsible behaviour. But it is obviously seen that she has a crush on him.
Hikari, Named by Takeru after seeing the Light Emitted by the Shooting Star that had crashed where they found Hikari. Who is she & what is she? Why was she found at the Star's Crash site? Naked?!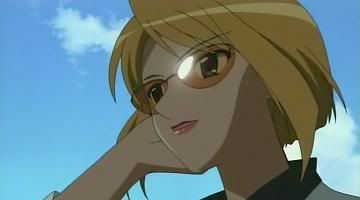 Hot, Clever, Sexy Professor that has come to Japan from Overseas. During her stay in Japan, she is living together with Takeru & Mari. She drinks a lot, but is very clever, as she comes up with a lot of hypothesis and theories that are quite accurate. She is the person who's always explaining about the things that has been happening based on her Hypothesis and Theories, which are never-the-less, never wrong...
My Review on Kono Minikuku mo Utsukushii Sekai...
Kono Minikuku mo Utsukushii Sekai AKA This Ugly Yet Beautiful World. Now you've learnt some Japanese words. ;)
The Animation is very good. Very Clear & Pretty, Character Designs are very nice & the sceneries are well done. Even the Monsters are drawn and animated Very Well. No Problems with Animation, Even the Opening & Ending theme Animation was Very Pretty, they must have had a lot of money in their budget. But in the opening theme, there is a scene of Hikari in a field of Sunflowers, I can't help comparing it with the scene in AIR TV's Opening theme, where the main character was in a field of Sunflowers as well. It just reminded me of AIR TV's Animation which was even Nicer, More Detailed & Beautiful than KMmUS's. But I have to say, the animation is fit of the Standards for an anime made in 2004. =)
About the budget, I seriously think they had a lot of money to spare, Because even the OP & ED Theme songs were very nice, the OP theme fitted the mood of KMmUS quite well, & the Animation that went together with it was very WeLL Done, & the ED theme was a very nice Happy-go-Lucky Cheerful Tune. Which fits the innocent mood of KMmUS, however, it was a bad point when sometimes the anime ended in a sad or distressed situation, and this cheerful music comes and annoys the mood. The Seiyuus were pretty good as well. I have no Complaints as both the Animation & Sounds were Very Well Done.
Now, the story of KMmUS, it seems like this storyline (or at least part of it) has been re-used over and over, again and again. Someone who will decide the Destruction of the World, suffers from amnesia or not being able to remember anything about their past before, lives together happily with the main character, usually the opposite gender, and with more another person in the same house. It's like Elfen Lied but with a mix of some Science Fiction of Space, the World, & It's Evolution on Earth & It's Destiny.
Well, It is After all, This Ugly Yet Beautiful World, so i guess it did a decent job in showing the different point of view. How beautiful the World was, & how Ugly it is in another view... After all, everything HAS a Good side & a Bad Side, that can't be helped. But somehow, the story seems quite cliche, you can probably predict what would happen, it's like i've watched something like this before. But then again, I suppose KMmUS wasn't exactly thaaat bad of a show either. It was pretty decent. But nothing Fantastic Either. It may provide some laughs, & has it's emotional times. Well, after all, the comedy is there to show the Cheerful, Light Hearted Times, & the Emotional Times are to show the Deep, Feelings & sometimes Negative emotions. However, they were just decent, & nothing Excelling.
I Suppose you can say that KMmUS has a lot of fanservice, It shows a lot of Naked Bodies, & a Lot of Girls with Good Proportions, & a lot of Pervert Times or Accidental Moves that make the Characters Tomato-Red Embarrassed. Well, i didn't really mind and they served as good comedy for those "light-hearted" times... =)
The Characters are pretty much characters you have seen before in other animes. The Character Designs & Characteristics are just Not really Unique enough and it's like they're being re-used in this anime, Ryou looks like a Taller Version of Minoru from Chobits, The rich intelligent kid(fyi), also sharing the same quiet, nice guy personalities, except Ryou is a bit more open. Hikari looks quite alike to Mikuru from The Melancholy of Suzumiya Haruhi, The Mascot of SOS Brigade. Mari's green hair and personality is very alike to Midori, the female lead in Midori no Hibi. Stuff like that, the character designs & characteristics are those you would most probably have seen from other animes. Then again, it might be nice to see the characters from those different animes living with each other.xD. If this is the first anime you are watching, then you probably would think the characters are very different & probably unique.
Oh yeah, & I found it really strange how the main character, Takeru could Fall in Love and already vow-ed to protect a mysterious girl he just met, and don't even know where she came from. It seemed like this anime was also trying to rush quite a bit. Another Example is, The Situation which usually happens in the Middle (usually episode 10 + )or at the end of an anime, where the girl runs missing and guy has to find her and bring her back home, it only happened in the 2nd episode, which gave me the feeling KMmUS was ReaLLy Rushing things to Develop Emotions for the Characters at a Faster Rate. Though it wasn't really that good of a work, & it was quite hard for me to believe it anyway (with common sense and such)...
Is there anything else i can say about this anime?
It's a pretty decent anime. It's probably worth a watch, but nothing extremely wonderful or outstanding from other animes. I won't be surprised if you love this anime if it is the first anime you are watching. But if you're someone who have watched a number of animes already, you would probably think this is an average anime.
I Praise KMmUS for its Wonderful Animation & Great Music, it has a decent Storyline & decent Characters, the character development and plot was good to watch and interesting in its way. But like i said, Nothing Excelling either.
If You're Bored, you could probably give Kono Mimikuku mo Utsukushii Sekai a watch.
If you have a List of other animes to watch, you could probably put this at the bottom of your list. Since you won't be missing out anything extremely good...
My Rating...
7.75/10


Animation:
9
Comment:
Very Nicely Done, they must have had a lot of money in their budget to produce such Splendid animation. But too bad such good animation wasn't used to its potential. If the Story had MORE in it, the animation is definitely worth being so nicely done. =)
Music/Sounds:
8.5
Comment:
Nice OP & ED Themes, & Seiyuus did a Good Job. Nothing Disappointing about this aspect either.
Story:
7
Comment:
A Decent Storyline with Decent Comedy & Emotional Scenes, Sadly, Nothing Excelling, but they were good. The only disappointing thing is that the storyline couldn't have had MORE.
Characters:
6.5
Comment:
With Character Designs & Characteristics that have been seen throughout many other animes and being re-used in this anime. The character development is decent, but thinking about how they couldn't have made the characters more unique in their own way was slightly disappointing...
Tear Factor:
Comment:
It does a Decent Job touching you, but nothing that makes you cry buckets.
Comedy Factor:



Comment:
Satisfying Comedy that Does a Good Job in Lightening the Sometimes-serious mood.
Excitement/Suspense/Surprising Factor:


Comment:
Nothing that i can say surprising. But the feeling of suspense while you're waiting to find out what would happen to the Fate of the World was Pretty interesting.
Meaningful Factor:


Comment:
Meaning. Not Much Meaning i can gather from something so Out-of-the-World. But then again, it probably gives you a fresh look at the world, looking at the world through the eyes of someone who has never seen it before. Letting you appreciate the little but beautiful things that you can see and have Only IN THIS WOrld...
Overall, KMmUS is a Pretty Decent Anime with Nothing Excelling. But Worth a watch though, if you're interested in this genre. =) & you probably might like it if you're the kind that likes looking at Naked Anime Girls...
Click Here to See Legend...
Screenshot...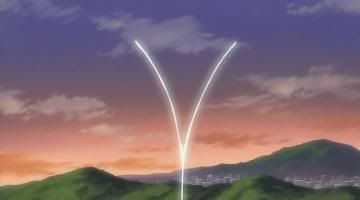 The Splitting of the Shooting Star...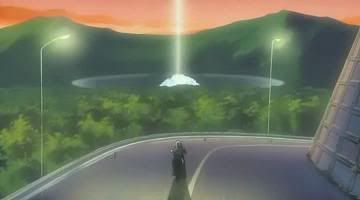 One of the Parts crashed in the forest, and as you can see, the two characters, Takeru & Ryou were there. & went to check out the Crash site...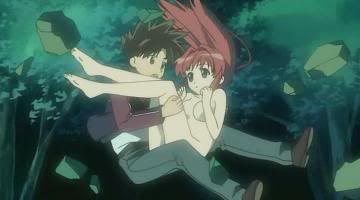 Takeru Saving the Mysterious Girl. & already promising to protect her with all his might. If you used your common sense, you'd most probably think "How Can they Develop such Feelings when they've just BARELY MET?!"
Oh Well, Kono Minikuku mo Utsukushii Sekai is Worth a Watch if you're bored & have nothing to do. Should this be the first anime you've watched, you'd probably love it. But if you've watched many animes before, this is probably a normal decent anime. Nothing Disappointing, Nothing Excelling... x)
Till my Next Review,
JoeL Un...x)