AIR Tv, It was on the Top 50 of the Top 200 List in AnimeNFO.com. & After I read some reviews saying it was pretty Good, So I decided to give it a Go. Be Prepared for a Very Long Review... x) I'm spending so much time on this review, so I hope it's worth it anyway...
Info on AIR TV from AnimeNFO.com...
Title : AIR TV
Japanese Title : AIR
Total Episodes : 13 X 24 minutes
Genres : Drama, Fantasy, Game
Year Published : 2005
Studios:
- Commitee for the Legend of Winged Beings
- Key
- Pony Canyon
- TBS
- Visual Art's
*The Series has a Summer Special which is an OVA of 2 episodes & a Movie... *which i haven't watched yet...
Story of AIR TV...
* Based on the game by Visual Art's/KEY
Kunisaki Yukito is a traveller who is searching for the 'girl in the sky' from a legend passed down in his family. His journey takes him to a small seaside town, where he meets Misuzu, a girl who seems eager to become his friend. A story spanning a thousand years begins to unfold against the background of their peculiar relationship...
Characters...
Specially for AIR TV, I felt there is a need to show the characters, but it was sooo timetaking to screen shot and size them in this manner.. .x( But Anyway, here goes...
Character Cast of AIR TV...1st Row, LeftKunisaki Yukito
, a wanderer travelling across the country in order to find the 'girl in the sky', a goal each generation of his family has passed on for a thousand years. Yukito lives off his trade, a special form of stringless puppeteering that was taught to him by his mother before she died. He Meets Misuzu Kamio who wants to be his Friend. What Awaits him in the Future as he Meet Misuzu & the Other Characters?
1st Row, RightKamio Misuzu
, a cheerful, slightly clumsy girl, and often mentions the pseudo-dinosauric phrase "Gao" whenever she feels troubled or is about to cry (since a young age, Misuzu has had a great love of dinosaurs, going so far as to believe baby chicks were dinosaur young). She has some Family Problems & Suffers from a mysterious Illness that causes her to be friendless. Thus, making her very lonely and Wants to be a friend with anyone she meets. That's when she Meets Yukito...
2nd Row, LeftKirishima Kano
, The younger sister of Kirishima Hijiri, She seems like a normal Girl, Happy & Cheerful, but she secretly suffers from a curse... She also has a pet dog called Potato who can communicate with her...
2nd Row, RightKirishima Hijiri
, is a Local doctor who is Related to almost Everybody in the story. As she seems to be the only doctor in town, she knows the situations of all the characters in the story. She has taken care of her little Sister, Kano since their Parents died... Believing Kano's curse to be some sort of disease, Hijiri trained as a doctor in order to try and cure her.
3rd Row, LeftTohno Minagi
, A top student in the school, Minagi is very quiet and shy. Though she doesn't have any relation with the past like Misuzu or Kano, she is still rather isolated from others. Until she met Yukito, her only friend was Michiru. Her father is frequently away on business and works as a train conductor.Minagi is the president of the Astronomy club at school, though she is also the only member, that is until she makes Yukito a member later on. Minagi has a secret, however, which Yukito comes to discover from Hijiri.
3rd Row, RightMichiru
, a young girl who doesn't seem to have a place to live. Michiru is a spirited, energetic young child. Having befriended Minagi at an early age, Michiru doesn't seem to have any other friends. She plays an important role in Minagi's storyline. She enjoys playfully attacking Yukito Kunisaki and has fondness for bubbles. However, in my opinion, her appearance in the storyline was very mysterious, and I couldn't figure anything out until i read the spoilers on Wikipedia. *DON'T SPOIL YOURSELF~! Only Read the Spoilers to confirm your Thoughts, Suspicions & Ideas ONLY WHEN You FINISHED the Anime*
4th Row, LeftKamio Haruko
, the guardian of Misuzu. She is very outgoing and enjoys a drink after work as well as riding her motorcycle, which she parks by crashing into the garage nightly. She also has a belief, which causes her to think she should not to be too close to Misuzu...
4th Row, RightSora
, a Crow that Misuzu finds. Misuzu befriended Sora as a pet before she met Yukito Kunisaki on the same day.
My Review on AIR TV...
Okay, AIR TV Starts off child-like & Innocently Light hearted in the beginning, as Misuzu befriends Yukito. But Later in the Show, it proved that it was actually very sad and melancholic. AIR TV proved itself to be a Great Anime, with potential to do even better. Even if it has done very well, It Hasn't Excelled as Much as It Could, In My Opinion...
Animation, Definitely Magnificent. Beautiful, Clear, Magnificently Done, the Sceneries, The Blue Sky, the Sun, The Horizon, Everything was Beautiful... This anime has Such Amazing Graphics, If only this kind of animation could be in the Great animes as well... Please Look at the Screenshots of the Anime below, to see how Clear & Beautiful the Graphics are... =)
The Sounds are Great! The Opening theme, Tori no Uta by Lia, *download it on Gendou to listen to it*, The SONG Is SoO Wonderful & Enchanting. It has the feeling of the anime, like flying in the sky, like flying over the ocean, but with a modern remixed feel. I'm Hooked onto the Opening Theme. The Seiyuus did a Great Job too. Unfortunately, I think the story causes the seiyuus effort to not be able to go as far as it could, which i will explain later. I Seriously would have given the Sounds a 10, but the ending theme just somehow doesn't fit the mood, and I just don't really like it, for some reason. So Sounds got a 9...
About the Story & Characters, Where should I Start. The Story has Expanded Very Much over the course of only 13 episodes. I think the Storyline is GREAT! It was Very enchanting on how it talked about what it felt like to fly in the sky. With each Character Possessing some form of Curse or Scar, They Each have a Great Storyline, and it's supernatural & Fantasy, but yet, Believable & not Over-Outrageous...
When AIR TV started to go back to the history, I was scared that it will be bad, *effects due to the long, boring flashbacks from Tenjou Tenge, I was thinking, Oh No, Don't Let a Great Anime like this be spoiled. Well, Thank goodness, The History that the anime ventured into was fascinating, Relevant and it interested me. I was also thinking, this anime talks a lot about dreaming and fate, Unfortunately, that idea was in X TV, and i didn't enjoy X a lot. I was also hoping this anime wouldn't be that bad. But AIR proved to be a Good Anime.
The Characters are Great as well. AIR TV has Gone So Deep into the Character's Lives, and it has done quite a good job in trying to get me to grow attached to the characters. The characters all have some hidden scars, and pains & Curses from the past. They have all suffered a misfortunate past and some are even suffering in the present. We See their sufferings, and Yukito helps them. It is Great way to Resolve Problems & i have to say, that The Curses, & Pains they faced was very Original & Unique, Their Psychological way of Thinking was Very Fascinating... That's a Great Storyline Done by AIR TV.
FLAWS...
Even though AIR TV was a GREAT Anime, It unfortunately had some Flaws that causes it not to be able to Reach my Top 10 List & Not able to be my Favourite...
Firstly, one Bad point of the characters' screen time is that, the supporting characters are given the time & their "Arcs" to show their characters and their story. But what turned me off was, After resolving their problem and finishing their arc, They were left alone and never seen throughout the anime ever again until the Last Episode?! & throughout the Arc where Misuzu and Haruko, her Guardian is involved, We Don't Even See a Shadow of Those Characters?! I find that disturbing, because, if Characters are Made & Created, they Should not be Left Alone or Idle throughout the Rest of the Anime, & should have a part getting involved in helping or something. It's good to be able to concentrate on an ARc, but then, Don't Leave out the Characters either?!
The Other Flaw was the Character Design. All the Character's Faces were Distinctively Alike, the only difference you can tell between the characters' faces is the difference of the guy's and girl's face. But as this anime involves a lot of girls, All the Girl's Faces were Cute, EVEN THE ADULTS?! I Mean, It's all right if the Students had those Cute Faces, but Even the Guardian & the Doctor have Those Kind of Faces??? Though it might be a big flaw to some people, i didn't think it was too big of a deal, just something worth mentioning, so i still think the animation should remain a 10. But it would be easier to solve this problem since all you'd have to do is just make the women adults' faces longer and more mature...
Now I shall go to the Flaws of the Story. The Story which seemed so Happy & Joyful at First, Proves to be Very Sad & Melancholic deep inside. At First, the Big, Blue Sky Seems So Pretty & Wonderful. But, Throughout the Anime, The Big, Blue Sky is explained and shown as a Boring Place which Stretches Forever, & the once-when-they-said-the-blue-sky-was-pretty, later in the anime, the Blue colour just Reminds you of Sadness & Loneliness, which is not a good thing anymore. =( AIR TV is Very Depressing. Speaking of Depressing, It Was EXTREMELY Sad To Lose So Many Characters Who Played Such Big Parts? I'm trying to not spread any spoilers. But It's Seriously Sad that All the Characters that play the Big Parts had to Disappear or Suffer So Much before this anime even ended. Even in the History, The Main Character of the History was in Such a Sad Situation...
I don't know whether this anime is trying to make us emotional by showing us how depressing it is, or showing us how depressing Reality & Life is through this anime?! What I'm Saying, When the Sad Things Happen, The Things that You NEVER WANTED to Happen.... They Happen Anyway, & It's Extremely Sad, in a bad way. I HATED How the Storyline was SoOoO Sad & Melancholic, Why Couldn't we See a Happy Ending? Why??? WHY??? Why Did the Creators even Make this Anime if It was SoOoO DepREssSing? I'm Gonna Feel extremely down for the next week... =(
That was the Major Flaw in my eyes, Probably because I Can't Accept that Kind of Storyline Whole-Heartedly... The Happiness of a Wonderful Dream has to be Broken Because of the Sad Reality. While most Animes End with Happy Endings, this Anime Ended Sadly & Depressing because the Wonderful Dreams of this Anime was Shattered by the Pain of Living in Reality... ='( Whether you think it's a good thing, because it shows the difference between reality and dreams, and shows that it is down-to-earth in a way... I think it's a bad thing, because i prefer watching Animes which ends happily... ='(
The Last Flaw i can think of is that, The Anime was Emotional, I was Sad, I was Touched, But then, i guess, it wasn't Elaborated enough? I've watched a number of Emotional Animes, & What made me cry was seeing the Heartwarming Memories or Flashbacks that were Emotional or Important & Special Throughout the series & they Said Really Memorable Words & Quotes. AIR TV didn't elaborate too much on that. If it had Shown MORE Memories & Flashbacks & if the Words had Lasted Longer, I Probably would Start Crying, & Would CRY a LOT!!! Well, That's one reason why, This Anime had potential, but couldn't reach as far as it could. Even though it's good and satisfying, I've been touched, But it hadn't Excelled enough to Make Me Cry like those Animes that I Especially Love...
With all that said, AIR TV has Quite a Number of Flaws, & It's Utterly Depressing & Melancholic, But then, It isn't all too Bad, It has a Good Storyline, It has Great Characters, It has Great Sounds & Wonderful Animation, It Deserves a 9, for being able to Reach this Far to touching me. But if AIR TV had Gone Farther, & Improved the Flaws I Mentioned, There is Definitely NO DOUBT, that AIR TV Would be ONE OF THE GREATEST ANIMES OUT THERE!!!
Note: If you hate Animes which doesn't seem to have a storyline in the beginning, or animes with a deep meaning, deals with history and past, or just hate sad drama animes, don't touch this...
My Rating...
9/10

Animation:
10
Music/Sounds:
9
Story:
9
Characters:
9
Tear Factor:
Comment:
As I have Explained Earlier, the Emotions weren't Stretched enough. I was Touched, But not to the extent where I Cried... I was on the Edge of Crying, but couldn't...
Comedy Factor:


Comment:
It was not really a Comedious Anime, But it has some Light-heartedness & Happiness. It was Mainly Serious & quite Philosophical, With a Bit of Comedy, it has 2 "Ha"s...
Excitement/Suspense/Surprising Factor:



Comment:
I have to say that this Anime had a number of Surprises, & the Truth was Very Different from the Outside. Meaning, when I saw the characters, i thought they were normal, but deep inside, it was very surprising that they were actually SoOoO Deep...
Meaningful Factor:





Comment:
Definitely 5!!! This Anime was very Philosophical & was Talking about the Difference between Dreams & Reality a Lot. Similar to X Tv, but i liked AIR better, it talked quite a bit on how humans have such wishful selfish thinking and wishes which will never be able to happen in reality. Definitely Philosophical & Meaningful.
Thus, Overall, AIR TV, is a Splendid Anime, With Potential, It has Done Well, But Couldn't Reach its True Potential because of those Major Flaws mentioned. =( But Still, AIR TV should be Worth a Watch, But Mind You... You might get very Depressed because this anime is Very Depressing & Melancholic... <_<
Click Here to See Legend...
Screenshots from the Anime...
Okay, We are Nearing the End of this Review. So Here we are with Screenshots of AIR TV. CHECK OUT THE AMAZING ANIMATIN & GRAPHICS PRODUCED IN AIR TV!!!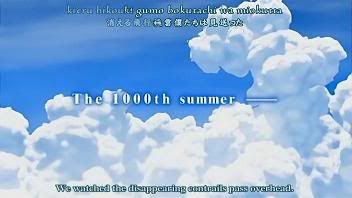 From the Opening theme, The 1000th Summer??? I didn't get it at first either, but as the Story Progresses, You'll probably be able to find out why it is the 1000th Summer...
SUGOI NE~ The Graphics are P-R-E-T-T-Y!!!
Even the Feathers are SoOoO Enchanting... T_T... I wanna be able to make Such Great Graphics... T_T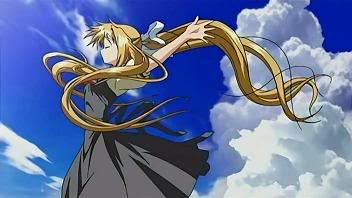 From the Anime, we See Misuzu Spreading her Hands out in the Sky...
Sounds so Wonderful? They were saying the thought of being able to fly in the sky "Sounds So Wonderful"... But Wait till u get to the middle of the anime. Flying in the Sky will seem like the Total Opposite of that Sentence...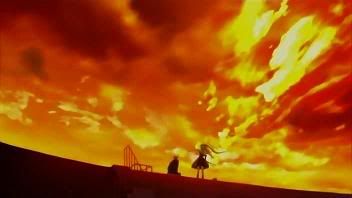 Magnificent Animation~! Such a Beautiful Scenery... Sighhh....
So That's It for my Review on the Anime, AIR TV... I Spent My Whole Weekend watching this Anime & Writing this Review, So I Hope It's Worth the Effort as Long as You Guys Read it... Thanks =)
Check it Out if you're into some Deep Thinking & In Search of some Philosophical meaning of Life... It'd be Good as Well, if you have an interest in some Supernatural Stuff & Emotions.... =)
Till My Next Review,
JoeL Un... =)